Amputee Rehabilitation
Ascot Rehab offers artificial limb assessment, prescription, manufacture, fitting and training for patients with upper and/or lower limb amputations, or limb deficiency. This is delivered by a multidisciplinary team and led by a consultant in rehabilitation medicine. The service works with clients to assess their needs, rehabilitate them into the community and help them achieve function, mobility and independence. This is available as either an inpatient or an outpatient.
Ascot Rehab's team of amputee rehabilitation specialists understands this and works closely with each patient to help restore strength and confidence, regain function and mobility, and build an independent and rewarding life.
address proper wound care and limb management
increase an individual's strength, flexibility, coordination and endurance, and decrease pain
provide the expert fitting and custom-manufacture of a prosthesis to meet personal lifestyle needs
train individuals to use their prosthesis with confidence and comfort, and avoid complications
In fact, Ascot Rehab offers continuum of care – inpatient through outpatient – to enhance each patient's recovery, enabling individuals to build on the strengths and skills they have acquired.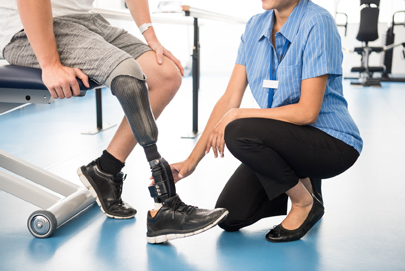 Accredited by